The Olive Place - LOCATION
The Olive Place is located at 407 Shaw Blvd. Brgy. Addition Hills, Mandaluyong City.

Mandaluyong City is the future home of The Olive Place, a development project by Data Land Inc. Prospective buyers will soon discover that the location of this condominium is going to be one of its best features.
Known as the "Tiger City", Mandaluyong City is a vibrant business center and booming economic powerhouse. It is home to various shopping centers, commercial establishments, high rise buildings, world-class hotels and corporate offices. It is therefore considered as one of the business and financial areas in the National Capital Region.
With that said, The Olive Place being built in Shaw Boulevard in Mandaluyong City will provide future condo residents accessibility. The developers strategically chose this location to make it convenient for residents to satisfy their needs. The top shopping centers, retail establishments and other key commercial buildings are within arm's reach or a few blocks away.
If you are in need of retail therapy, you will have plenty of choices when it comes to shopping centers in Mandaluyong. A few notable shopping centers that are within 1-kilometer from The Olive Place include Shaw Center Mall, White Palace Spa, Metro Supermarket, and FC Home Center. If you want to indulge your palate to your favorite cuisine, you have plenty of restaurants to choose from along Shaw Boulevard and the neighboring streets. Your restaurant options include Organico Gourmet, Bricks and Copper, Tides Bar and Restaurant and Soledad Pancit Malabon.
For families who are contemplating on getting a unit at The Olive Place, you will also have plenty of nearby schools to choose from. The PUP San Juan Campus is a little over half a kilometer from The Olive Place. Meanwhile, other notable schools nearby include Montessori de San Juan, Keys School Manila, and the Community of Learners. When it comes to your medical or emergency needs, you can rest assured that there will be a nearby medical or health center to facilitate them. The Maria Clara Health Center and Addition Hills Health Center are both located less than a kilometer from the residential tower. Meanwhile, the Cardinal Santos Medical Center is located just outside of the 1-kilometer radius from Shaw Boulevard.
For the young professionals that choose to live in The Olive Place, its proximity to the major business centers will also make traveling to and from your place of work convenient. Makati, for example, is one of the most recognized business centers in the National Capital Region. It is fairly accessible from Mandaluyong City. The case is also the same with Bonifacio Global City and Ortigas Center, two other major business centers that are located close to Mandaluyong City.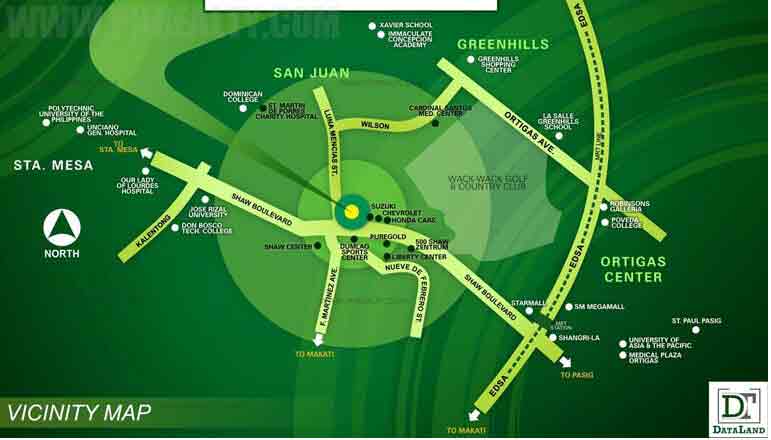 Your ability to enjoy medical services or satisfy your lifestyle needs is therefore possible by choosing to live in The Olive Place. Hence, you can invest in a property that you can call as your safe haven from the bustling city without the need to be totally disconnected from it. You do not have to live far from the city in order to experience the relaxed living that you aspire.
Since The Olive Place is located along Shaw Boulevard, Mandaluyong City, Its proximity to major shopping centers, business districts such as Makati, Bonifacio Global City, Ortigas Center, schools, and other life's conveniences presents a unique lifestyle opportunity for its residents. Bringing harmony in the middle of the bustling city of Mandaluyong, The Olive Place defines the ideal work-life balance.
In addition to accessibility, The Olive Place is masterfully planned making sure that everything is within your arm's reach. A few floors down from your own personal space, you would find commercial establishments readily available for your every need.